2019 Snapshot Report
---
Highlights
Paying tribute to dear colleagues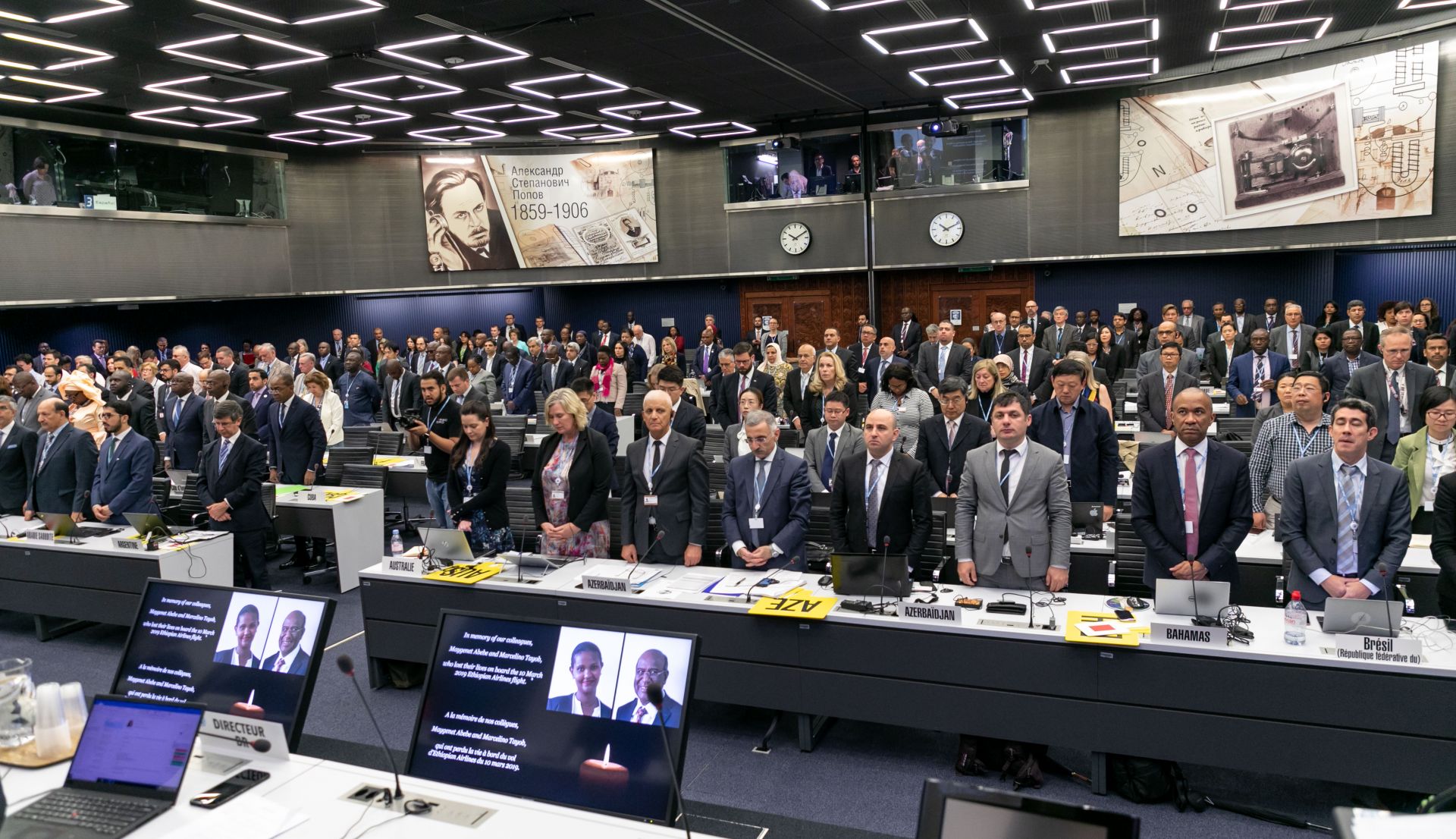 During the ITU Council 2019 session, ITU Secretary-General Houlin Zhao paid tribute to dear colleagues from the African Regional Office, Mr Marcelino Tayob and Ms Maygenet Abebe, who perished in the Ethiopian Airlines flight ET302 crash just three months from the first day of the meeting.
The Council paused in a moment of silence for Marcelino and Maygenet, and for all the victims of the terrible tragedy.
Marcelino Tayob, a national of Mozambique, worked as a senior advisor at the ITU Regional Office for Africa in Addis Ababa. He joined ITU in 1997.
Maygenet Abebe, a national of Ethiopia, worked as an administrative assistant at the ITU Regional Office for Africa in Addis Ababa. She joined ITU in 2010.
"Maygenet and Marcelino were committed and dedicated staff who worked hard to increase the impact of ITU's work as the regional offices expand their initiatives in the region," said Doreen Bogdan-Martin, Director of ITU's Telecommunication Development Bureau, in a . "They touched our lives as colleagues and friends. They will be sorely missed, but never forgotten. The contribution they made will live on in the work we do every day."
International Girls in ICT Day

During Council 2019, delegates received a briefing about International Girls in ICT Day, an initiative to encourage and empower girls and young women to consider studies and careers in the growing field of information and communication technologies (ICTs), and for technology companies to reap the benefits of greater female participation.
Celebrated around the world on the 4th Thursday in April each year, with over 11,100 events held to date in 171 countries worldwide, Girls in ICT Day is reaching an estimated 357,000 girls.
In 2019, ITU celebrated the

International Girls in ICT Day in Addis Ababa, Ethiopia. The event welcomed over 250 girls from local schools and leaders from government, private sector partners, United Nations agencies, non-governmental organizations, and the educational community.
It proved to be a high-energy, educational showcase of the power and possibilities a career in technology can offer.
ITU Member States, Sector Members, Associates and Academia were once again encouraged to organize events attracting as many girls and young women as possible.
Also during the Council session, ITU Secretary-General Houlin Zhao highlighted his commitment to gender equality and mainstreaming and the importance of attracting more women to the technology sector (also see the Key Outcomes section of this Council snapshot report). He also took the opportunity to encourage ITU Member States to nominate more women in their delegations, to ITU meetings, and to leadership positions.
Digital cooperation
ITU Secretary-General Houlin Zhao also announced during the ITU Council 2019 session the launch of a Report of the United Nations (UN) Secretary General's High-Level Planel on Digital Cooperation: "The Age of Digital Interdependence".
ITU Council delegates received a briefing about the report from Fabrizio Hochschild, who has been appointed by UN Secretary-General, António Guterres, to work with all stakeholders to refine the Report's recommendations.
Mr Hochschild mentioned that ITU is and will be a key partner in refining these recommendations, given ITU's longstanding expertise. He also stressed the need for a multi-stakeholder approach. Read more in the full article.
To date, in spite of significant efforts and investments in digital technologies and applications for
development, amounting to billions of dollars worldwide, progress has been hampered by a lack
of coordination, and, in particular, from not taking a whole-of-government approach to digital investments. So says the foreword of a recent report by ITU and the Digital Impact Alliance (DIAL) setting out a SDG Digital Investment Framework intended to be the start of a new dialogue with the digital investment community.
The framework encourages a whole-of-government approach to investing in digital technologies to achieve the Sustainable Development Goals (SDGs). It sets out to help governments address key strategic investment questions and choose effective, scalable technology-based solutions - and in particular, help them to consider using information and communication technology (ICT) Building Blocks for economies of scale and maximum return on investment