Introduction
---
ITU is the United Nations specialized agency for Telecommunication /ICTs
ITU allocates global radio spectrum and satellite orbits, develops the technical standards that focus on interoperability and ensure that networks and technologies seamlessly interconnect, and strives to improve access to telecommunication /ICTs to underserved communities worldwide.
ITU is committed to connecting all the world's people – wherever they live and whatever their means. ITU's work aims to protect and support everyone's fundamental right to communicate.
Foreword by the Secretary General
---
"This is our first Council since PP-18, a Plenipotentiary Conference that will go down in history as the moment when more than half of the world's population used the Internet. PP-18 laid out a roadmap for how ITU can help bring the benefits of the digital economy to more people than ever before. It has given us a new Strategic Plan and a new Financial Plan, with bold and ambitious targets for the next four years. And that's where I want to start today – by sharing with you three important lessons that came out of PP-18.
• The first lesson is that we can and must harness technology as a source for good and for everyone. Now, more than ever, the world needs the Sustainable Development Goals (SDGs) and the SDGs need information and communication technologies (ICTs).
• The second lesson is that in today's interconnected world, innovation comes from everywhere – that we're stronger when we work together.
• The third and final lesson is that the world of technology is changing rapidly and ITU is changing with it.
A new cycle begins now, a four-year period that will drive the growth of our Union and technology into the third decade of this century. As the new decade opens, ICTs are transforming our world and the way we treat diseases, make things, grow food, power cities, move people and goods, and communicate with each other. And our Union is at the forefront of this digital revolution"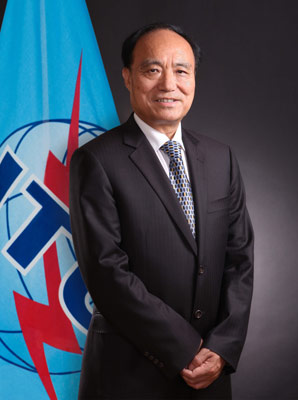 H. Zhao, ITU's Secretary General